Home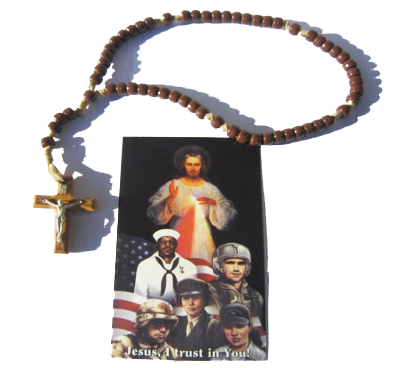 The Holy Land Rosary is made with an olive wood crucifix from the Holy Land, simple black pony beads and military-grade parachute cord. It is a wonderful prayer aid, connecting us with Christ's passion in the Garden and the Holy Land where Christ lived and taught. It also helps fulfill the prophesy in Isaiah 2:4:
You will turn your swords into plowshares, …and your parachute cords into rosary cords.

(The last sentence is my 'living translation').

"

 For info on getting a Complimentary Rosary, contact office manager, Kathleen Quinn at this email address: katemayquinn1.HLMR@gmail.com or Mail requests to:  Holy Land Military Rosaries, PO Box 97, Eldridge,IA 52748

Donations appreciated: Please send to– Sts. Philip & James; PO Box 7;

% Father William Kneemiller/ Serve Haiti, 52751 

*[All donations are Tax Deductible.]*

by Trese Gloriod with no comments yet.